Winner of Surrey Digital Award 2017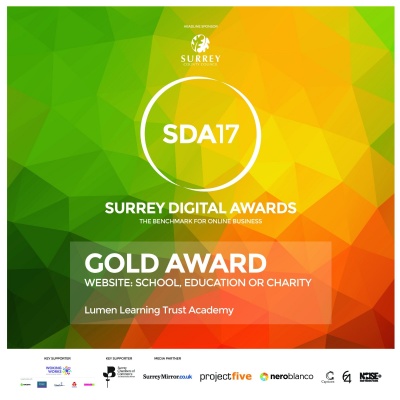 Lumen Learning Trust proud winners of Surrey Digital Award 2017
On Thursday 9th March the Lumen Learning Trust were announced as the winner of the Gold Award in the Website: School, Education or Charity category at the Surrey Digital Awards 2017. Judges commented on the "clarity of text along with ease of accessing relevant information" when navigating the Trust website as well as those of Saxon Primary, Riverbirdge Primary and The Echelford Primary.
Exciting new site upgrades
This success comes in the wake of recent upgrades to our websites, making them a powerful tool to communicate with our community as well as building a sense of connectedness for parents and carers with their child's particular school.
Sites are now more accessible in a number of ways - they are 'device friendly' so that they can be easily viewed via PC, laptop, mobile or tablet; a translate feature is available in a multitude of languages and a Read out Loud function has been introduced.
To build on parents and carers desire to feel more involved in their child's school day calendars are available which display events such as upcoming trips, key assemblies and more. Year group timetables are published to assist parents and carers in framing their conversations when talking to their child about their school day.
We have also built on our new paperless communication initiative with the introduction of online forms which allow for replies to trips, updating of contact details, reporting an absence and application for after school club spaces to be completed all from a device of choice at a time convenient to the family in question.
Welcoming Riverbridge Primary to the Trust
As well as upgrades to our exisiting websites we also welcomed Riverbridge to the Trust with the launch of their brand new website featuring newly designed school logo and fresh design feel. This has enabled Riverbridge to enjoy the benefits of being part of a Primary Trust for Primary Schools while still maintaining their individual school ethos and identity.