The Lumen Learning Trust ECT offering
We recognise that for an Early Career Teacher (ECT), the task of finding a job starts in earnest many months before you take up a post in September. You will need to select a school which is affordable to live nearby, has good transport links and routes, and one where you won't feel unsupported or alone.
Schools in the Lumen Learning Trust have a very strong package for those who choose to work in one of our schools in Staines, Ashford, Shepperton, Addlestone or Walton. These include:
Two weeks paid training in the last two weeks of July.
The opportunity to work for additional income at our popular Summer holiday clubs over August.
Strong career progression process from ECT+1.
Fully secured ECT PPA time, equating to 20% teaching time in total per week.
A teaching assistant for a minimum of three hours in your class every day.
A dedicated support team, with a Year Leader, mentor and Phase Leader to help.
Support from a dedicated Enrichment Leader.
A programme of on-going professional development.
An active and genuine programme of social events.
Subsidised lunches and complimentary hot drinks.
Our ECT Professional Development Commitment
We are delighted to have been appointed as a Regional Ambassador School for the SFET Teaching School Hub; Success For Every Teacher. The government's new 'golden thread of teacher development' is at the heart of the most exciting reforms to teacher education, training and development in a generation, and we are proud to be supporting the roll-out of these changes across our region.
SFET Teaching School Hub will act as a central point for high-quality continual professional development, delivering to the full range of the teaching workforce in all schools; primary, secondary, special, alternative provision and early years. Engagement with up-to-date research and the impact of reading and training upon practice is a vital aspect of learning to teach and underpins the Hub's delivery offer.
Supporting everything from initial teacher education, the roll-out of the Early Career Framework (ECF) and acting as an Appropriate Body for ECTs across Hampshire and Surrey, to delivering reformed NPQs, including specialisms through to executive headship, SFET Teaching School Hub is delighted to be supporting schools in our local area.
The hub area includes Guildford, Rushmoor, Waverley, Hart, East Hampshire and Basingstoke and Deane and aims to build upon regional partnerships, sharing the excellence and expertise across the locality to deliver a high-quality school-led offer that benefits all teachers, support staff and school leaders.
To find out more about these exciting changes and how SFET Teaching School Hub can support your school, visit www.tshubsfet.org.uk, follow @SFET_TSHub on Twitter, sfet_tsh on Instagram, call 01252 986890 or email tshub@sfet.org.uk.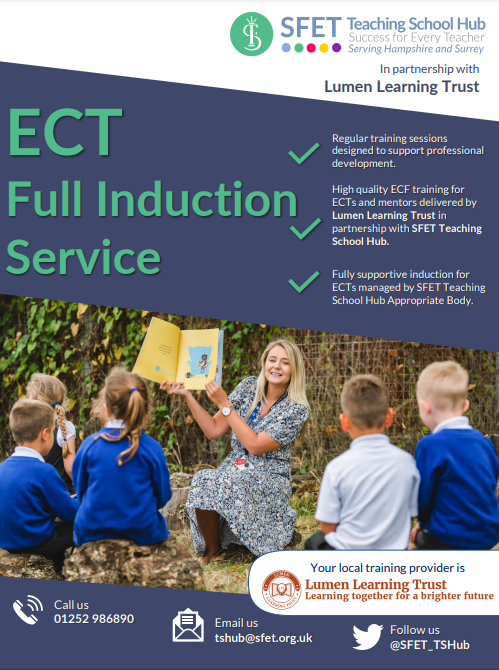 This information is provided by the Lumen Learning Trust. For details of our latest vacancies, please see www.lumenlearningtrust.co.uk/jobs