Day 9 - Out of this world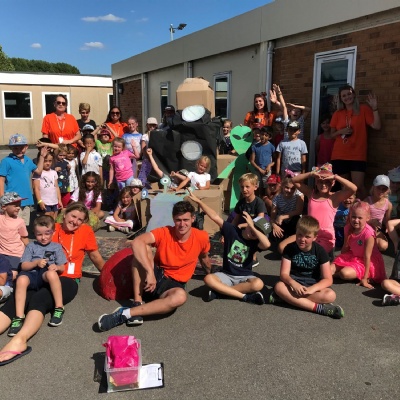 5, 4, 3, 2, 1... BLAST OFF!
Out of this World Day has truly been ... out of this world! We have had a great time creating and playing.
We have made planets, rockets, aliens, UFOs and so much more! The children have been so creative today, it has been fantastic to see their ideas come to life. The children worked together brilliantly to create their Big Art today which included a giant rocket, complete with compartments; giant aliens; and planets. Another of their Big Art projects was of splatter aliens - a frightening sight with all of their googley eyes!
Some of the children have been busy moonwalking, others have been taking part in Meteorball, Pass the Planet and Alien Crabs. Everyone came together for a mammoth game of UFOs and Flying Saucers at the end of the day.
You can see all of the amazing photos from today by clicking here.
We're looking forward to our big Army vs. Navy theme day tomorrow, have you chosen your side?