Day 14 - The Greatest Showman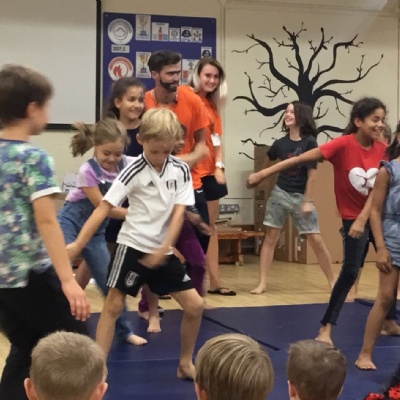 This is the greatest show!
Everybody's dreams came alive today. The children created a show which was worthy of our theme today. We have had jugglers, acrobatics, lion tamers, strong men, dancers, and so much more. We have been blown away by the talent on display throughout the day. Children worked hard to perfect their performances ready for this afternoon and it was lovely to see different groups working together to devise entertaining acts. To end the day, the children all came together to watch one another perform. Well done to all those who participated so enthusiastically; P.T. Barnum would have been proud.
As well as working on their show the children have been busy getting creative, making their own trapeze artists and clowns with giant ties. Many of the children have had their faces painted today as bearded ladies and clowns as well. In our construction area, the children were challenged to create their own circus using different materials. One of these constructions even included disabled access - a fantastic feat of creative engineering.
We've had a wonderful day and can still never have enough of this brilliant theme.
To see our photos from the day, click here to be taken directly to the Camp Photo Gallery.