Day 3 - Princesses and Knights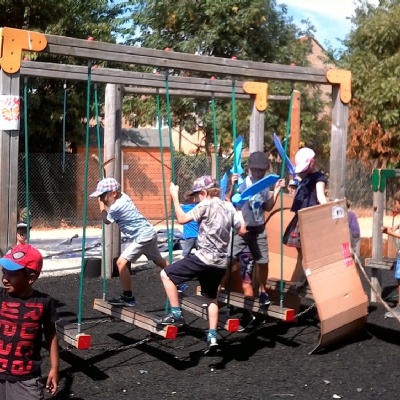 A fantastic day of epic battles!
Knights and Princesses Day has lived up to its regal name. We have had an excellent day full of battles and duels. With dragon-themed room names, their chants have been echoing off the castle walls all day.
"We are the dragon slayers, We come from Lumen schools.
Who do we save? Who do we save? We save the Princesses!
Princesses, Princesses, Princesses, Princesses, Princesses!"
"Fiery French toast we are hot, slow and steady we are not.
Fiery French toast we are cool. Over the kingdom we will rule!"
The children began their day by showing their strength and determination in the obstacle course, before fighting it out in Capture the Treasure. Children have also been making swords, suits of armour and wands to have with them throughout the day. There have been duels between knights, fighting on behalf of Queen Eliza and King Graham. The armies of this King and Queen went to battle over the castle the children built throughout the afternoon. Congratulations to Queen Eliza's army for rescuing Princess Hannah and defending the castle successfully.
See our photos from the day by clicking here.