Day 5 - World Cup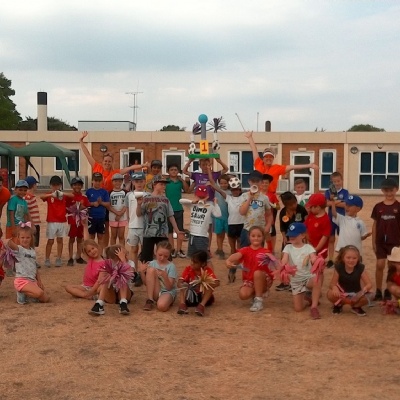 We have had a fantastic end to our first week at the Lumen Summer Camp with our final theme for the week: the World Cup. The children have been busy running football drills; creating world cup trophies, medals and commentator megaphones; and practising cheerleading routines.
The teams were whittled down to just four remaining competitors this afternoon with a play-off between the Krushing Krishes and the Dazzling Dannys for 3rd place. It was a closely fought contest, but the Dazzling Dannys were ultimately triumphant with a score of 1-0. Well done to all.
The final was between JJJV and the Raging Lions. This tense match was commentated on superbly by our Lumen reporters who never missed a shot. Although the Ranging Lions led 1-0 at half time, it was JJJV who won the match with a final score of 2-1. Huge congratulations to both teams and well done to our cheerleaders who lead two very exciting half time shows for all of the spectators.
Children have ended their afternoon with a range of activities including making very tasty England flag biscuits. We hope you all have a lovely, relaxing weekend and look forward to seeing everyone on Monday for Superhero Day!