Toy Story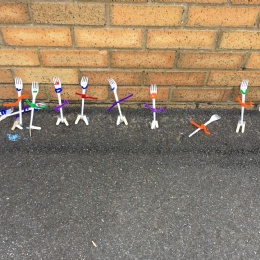 When Andy hasn't been around, we've been bringing toys to life and having an incredible adventure with Buzz, Woody and friends. Today, we have made our very own 'Forky' characters as well as designing Mr. and Mrs. Potato heads. Additionally, we have travelled through the outdoor areas on a hunt for all of Andy's special toys and were tasked with some challenges along the way.
Outside, we have been playing variations of some of our favourite sports including a Toy Story themed game of Kwik Cricket. Buzz Lightyear gained some new pals today as some of us donned our cuffs and helmets to travel to infinity and beyond. We all had to freeze or fall to the ground when we heard the phrase, "Andy's coming!"
Tomorrow, we will be entering the wonderful world of fairy tales; who will we meet along the way?